Wolf Parade
's last show ever with Himalayan Bears and
Frog Eyes
live in
concert
at the Commodore Ballroom on May 30, 2011.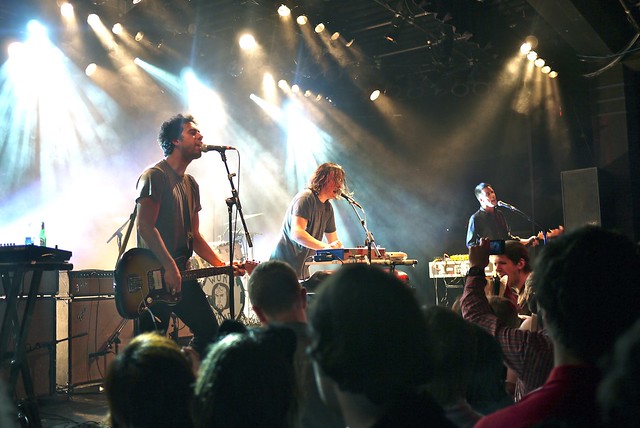 Amazing. Wolf Parade ended their run as they started it with incredible energy and fire. They played all their hits and notable songs early and often.
I marvelled at the pulsating renditions of songs like "Ghost Pressure", and older favourites like "Shine a Light" and "I'll Believe in Anything".
As one of my all-time favourite Canadian bands, I absolutely had to be at their "last show ever".
They were thunderous
last time I saw them
at the Vogue Theatre. And they managed to pump up the volume of that even higher.
I met up quickly with everyone's favourite fashionista,
Alicia Quan
. She was super bummed her DSLR
camera was taken away
in as the Commodore is pretty strict about professional photography at their shows.
I was dog tired from work, after-work drinks and oysters (more on that later), wandering downtown before the concert and two serviceable but vaguely memorable (because I was out of it not because of their performances) opening acts.
However, I managed to be adequately amped up for the pumping sounds and music of my favourite animal named Canadian indie rock band.
The show was amazing and a great, fitting way to cap off a stellar body of work and musical career for this indie rock outfit from Montreal by way of Vancouver and Victoria.
It was beyond most any other shows in terms of entertainment and feel. The energy of the four was magnetic. Any fan would be hard pressed to ask for anything more from them.
I should be more sad about their ending as band, but they left everything on the stage. They more than deserve some time to work on their other, many projects.
"Thank you for the music, Wolf Parade. The [B.C./Quebec] band just played their final chords of glory with the audience on stage too at the Commodore." – Grant Lawrence
For their last song, they did a cover of Bob Dylan's classic "
Knockin' on Heaven's Door
" with a stage invasion. It was an epic finale to an equally epic band.
I saw infamous Vancouver concert junkie
Mikala Taylor
with her rockhands capturing the show front and centre.
I'm sure the band's other musical projects,
Sunset Rubdown
,
Handsome Furs
,
Moonface
, and so on will continue to do great things. Although it was billed as the "last show ever", the bandmates were in great spirits and hopefully things will come together again someday in the future to break their indefinite hiatus.