Financial District
—(July 21, 2015) The newly opened
Royal Dinette
restaurant located below the formerly two-storey
Blackbird Public House & Oyster Bar
comes from acclaimed
Farmer's Apprentice
and
Grapes & Soda
chef/co-owner
David Gunawan
in partnership with the ubiquitous
Donnelly Group
(a silent partner). Taking over Blackbird's previous first floor dining area (and the Keg Caesars before that) on Dunsmuir Street, the freshly renovated space is gorgeous with a classy, sophisticated look and feel in a neighbourhood dominated by chain restaurants.
Head chef
Jack Chen
leads the eighty-seat farm-to-table eatery's menu of locally-sourced seasonal ingredients in keeping with a philosophy of sustainable dining. This preview night dinner—filling the entirety of the newly finished restaurant—was actually the staff's first experience together serving any diners. Cannily, they served two different menus alternating from table to table.
To drink, I was delighted by the
Amaro et Café
cocktail (made with
Elysian cold brew coffee
, Amaro Montenegro, and orange) and its strong but welcoming mixture of tastes. Likewise, the classic
French 75
(with gin, Prosecco, pressed lemon, and orange oil) was also a light and refreshing pre-dinner libation. Both cocktails are featured on the
L'Apéro
(apéritif) happy hour drink menu from bar manager
Wendy McGuiness
for your enjoyment while you wait for a table or your meal to be served.
To start, the
salt baked beetroot
(with summer berries, cheese, and sorrel granite) was predictably filled with fresh, simple flavours. I found it refreshing.
As for the mains, the
black pepper pappardelle
(with zucchini and parmesan cheese) was serviceable but somewhat lacking with a very mild taste. The house made pasta was delicious and well-made, but for me, deserved something more substantial topped on it.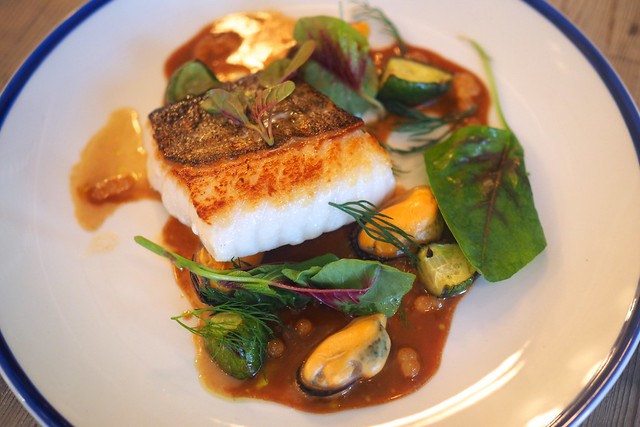 The
ling cod
(with grilled cucumber, mussels, caramelized whey, and dill) was subtle, well-cooked, and quite tasty as were the mussels in the sauce (enjoyed with some of their naturally leavened bread). The dish was understated but satisfying.
Royal Dinette is aiming for variety and complementary dishes with fresh pastas, tasting menus, sharing plates, and drink pairings as they're going for a full dining experience. For dessert, I was quite taken with the well-prepared stone fruit (with salted white chocolate, milk sorbet, and candied hazelnut) for bringing so many sweet flavours together sublimely.
For their very first outing serving anyone, let alone media/critics and only hours after putting the finishing touches on the restaurant, Royal Dinette's familiar yet welcoming menu of flavours is already fairly appealing. Coming to the table with such a strong pedigree from front of house to back, I only expect things to improve on a promising start in refining their menu and tastes.
More |
YVArcade
/
Scout
/
Straight
/
Van Mag
/
View the Vibe
/
Western Living