The Buzz Entrepreneur Event
from
Reach Magazine
and
Vancity Buzz
at
Canvas Lounge
on June 16, 2011.
After the
bird show
at the Vancouver Aquarium, I headed to Gastown for the latter part of the local entrepreneur meetup, The Buzz Event.
I hadn't been to one before due to schedule conflicts and made a special effort to hit this one up with a rockstar lineup, despite missing the featured speakers including
Blenz Coffee
president,
George Moen
.
The turn out was great with a packed house.
I managed to meet a bunch of new folks.
Of course I caught up with friends.
These included organizers
Karm Sumal
and
Crystal Kwon
from Vancity Buzz,
Dammy O
,
Matt
and
Jay
from
Hamburger Disco
, among many others.
The entertainment was provided by singer/songwriter
Kristie Yung
and Colombian musician
Saba Nazarian
.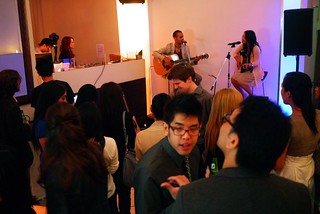 Both provided some great, soulful musical accompaniment.
It's cool having a nice, casual event for young entrepreneurs to come network and meet colleagues.
The videographer and interviewer was of course my dear friend and my protégée (not really)
Angela Jung
(below interviewing
Shangri-La
's Adam Nagy) and, for a change, I got to interview her.
One nitpick as a writer, I am a little horrified by the grammatical error in the
FaceBox Media
photo pics below. Try and spot it. Tsk, tsk.
For any promoters, hustlers, and startup folks out there, this quarterly event is necessary territory for meeting collaborators and partners in crime.