Railtown
—After being named one of Canada's best new restaurants by
various outlets
including
enRoute Magazine
last year, I recently
finally
got around to dining at the much ballyhooed, award-winning
St. Lawrence Restaurant
to sample some of their fine French-Canadian cuisine from
Chef J.C. Poirier
and the team behind
Ask for Luigi
for myself.
côte de porc (pork chop with Oka cheese and Robuchon potato purée)
Surprising no one, the hearty Québécois food was impeccably prepared from start to finish. Everything meaty was exquisitely cooked and prepared with a buttery taste best enjoyed shared with good company in a just dimly lit enough room.
tourtière de ville au cerf (traditional venison meat pie)
There's a greatness in the simplicity and presentation of their signature dishes from the crackling fried pork rinds presented in its old school tin can to my highlight of the ultra tender and moist pork chop served atop a bed of creamy potatoes sauced up all around.
daily cocktail special (with gin, orange, and ginger beer)
Oddly enough, St. Lawrence feels very homey and inviting yet still firmly upscale in its content. The comforting menu has an undoubtedly home recipe taste and feel despite also possessing a clear fanciful higher-end connotation to its dining.
grilled hanger steak (with bone marrow, sauce aux poivres, and frites)
This contrast makes their meaty starters ("pour commencer") and mains ("les plats") so appealing as hearty treats served in a nostalgically romantic space—formerly occupied by
Big Lou's Butcher Shop
—in the thick of the
Downtown Eastside
neighbourhood.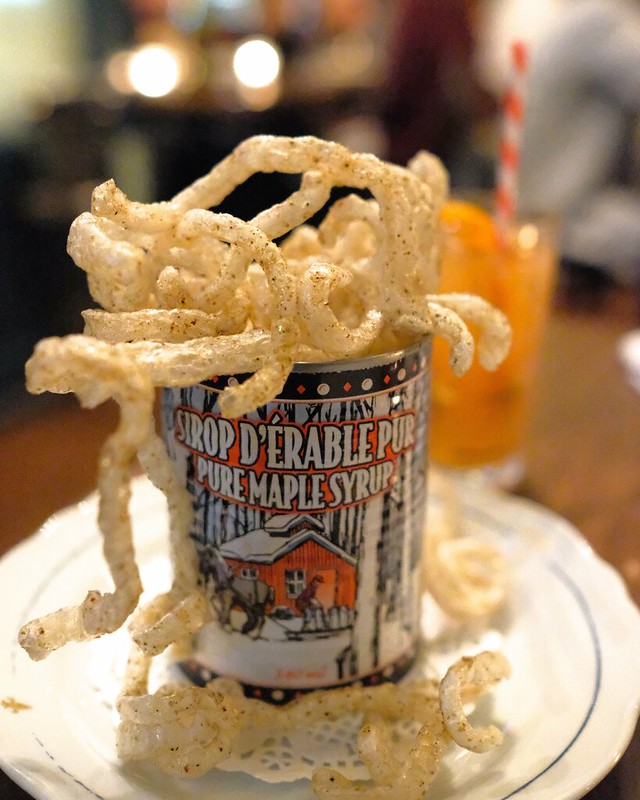 oreilles de crisse (fried pork rinds with maple syrup and spice)
Much has already been said and shared about St. Lawrence's fine cuisine, well-regarded pedigree, and precisely made dishes as I initially resisted the restaurant's many lofty accolades.
I'm only here to confirm and affirm their already sterling dining reputation. It's truly a nice place to enjoy some very rich, upscale food—particularly for any special occasion—in a very pleasant package.
More |
YVArcade
/
BIV
/
Globe and Mail
/
Montecristo
/
Nuvo
/
Sherman Chan