Gyoza Bar + Ramen
's dry-run preview
tasting
and
grand opening
on West Pender Street on September 4 and 8, 2014.
Gyōzas and ramen are among two of my favourite edible things and staples of the Japanese diet. Throw in
Aburi Restaurants
(of
Miku
and
Minami
fame) and their track record of top notch high end Japanese cuisine/dining and you have a highly anticipated recipe for this finally opened (slightly fusion style) Japanese noodle soup and dumpling eatery.
The long and narrow space (formerly home to the appropriately named Tunnel Nightclub) is adorned with a rustic wood finish, exposed brick, and polished concrete urban look and feel. The partially open kitchen and prep area offers an intimate, inviting atmosphere with a peekaboo window, allowing diners to watch fresh house made ramen being prepared.
We tried all five varieties of their gyōza dumplings. Their signature crispy
Fraser Valley pork teppan gyōza
(cooked in a round iron cast pan) was well-cooked and tasty but very sticky and difficult to separate. It was good but I have a feeling, this one's probably going to improve over time and hopefully be easier to eat (something they're already working on.
My dumpling highlight was the
chili shrimp gyōza
(with pickled daikon, soy marinated ikura and wasabi chimichurri) full of shrimp flavourful goodness.
I quite enjoyed the vegetarian
Harissa tofu gyōza
(with kabocha, yuzu-coconut sauce, pineapple salsa, and apple slices), its fried texture, mixture of ingredients, and pleasing presentation.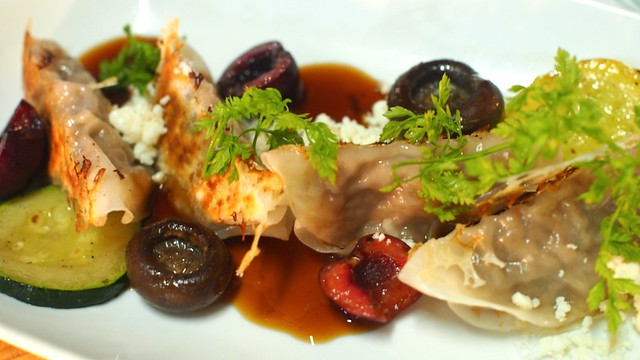 The
miso short rib gyōza
(with jalapeno-soy glaze, feta, cherries, mushrooms, and zucchini) was jarring at first with the beefy flavours inside the dumpling, but grew on me with all the fresh flavours inside, although you kind of forget its a gyōza. The pulled beef was very tender.
Another interesting offering was the very Chinese
Hainan chicken gyōza
(with ginger scallion rayu, bok-choy and chicken dashi) with its moist, steamed taste. This will take some getting use to.
As for the ramen, the special
Kaisen tomato-saffron seafood ramen
(with mussels, clams, prawns, and scallops) had a unique, very flavourful quality if you're into a seafood and tomato base.
The
Tamari-Shoyu Tonkotsu pork ramen
(with Aburi pork char siu and tamago) was very tasty with a smooth, thick broth and my favourite so far. The specially made bowl was deep to hold the rich, flavourful soup and house made noodles. It nearly killed me to finish the generous contents as the deep and cavernous bowl (specially made by local artist
Hide Ebina
) was deceiving in how much ramen it held. Also, notice the perfectly cooked hard-boiled egg.
I also dug the
Umami-Shoyu chicken ramen
(above) as well as the
Mediterranean salt shio chicken ramen
(both with chicken char siu and tamago) with their rich flavours and a crisp aftertaste.
The Southern inspired
creole spiced steamed prawns
(with mussels, chorizo, corn, and baby potatoes) was a surprising dish full of cajun seafood tastes. The ingredients were well-cooked (served in a bag) and fresh tasting yet felt slightly out of place with the ramen and gyōzas.
Gyoza Bar is off to a promising start with time and dedication put into introducing and launching their signature dishes with some Japanese flavours. I'm most excited about its promise and improvements in refining the menu. The variety of dumplings and ramen styles offered is refreshing and intriguing.
More |
YVArcade
/
Miku
/
Minami
/
V.I.A.
/
Dennis the Foodie
/
Pangcouver
/
Scout
/
Shannon Fung