Dinner menu
tasting
at
Bistro Wagon Rouge
on Powell Street in
Grandview-Woodland
on February 6, 2014.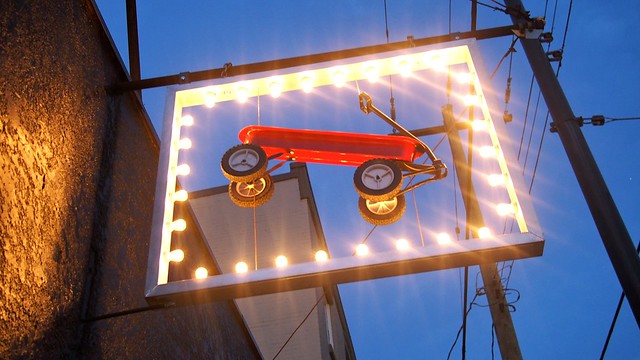 Grandview-Woodland and
Hastings-Sunrise
, collectively the
East Village Vancouver
, is still somewhat of a hidden gem of independent businesses, restaurant, craft breweries, and artisans.
Opening in November, the team behind the ridiculously popular
Red Wagon Cafe
have quickly established their offshoot Bistro Wagon Rouge, a small diner like eatery based on fine French cuisine, as a go-to destination in the area. For libations, I enjoyed a
La Chouffe
beer on tap as well as a Wagon Rouge cocktail (with gin and lavender lemonade).
On our tasting, we started off with some of the trademark deep fried
pâté fingers
, quite delicious, deadly so. Their two chalk board feature menus of breads, cheeses, and mains change and rotate daily so your experience is sure to never be the same. I definitely recommend any of the bread slices topped with pâté or meat spreads.
We were told the
grilled octopus
(with fingerling potatoes, chermoula, fennel, and arugula salad) was a must try and its flavourful combination did not disappoint as a mishmash of diverse flavours.
I greatly enjoyed the composition and combination of tastes in the
cassoulet duck confit
(with house made Toulouse sausage, crispy pork belly, and braised beans) full of contrasting meat tastes as a hearty, filling main served as a slow-cooked casserole.
The staple of
steak frites
(hanger steak with peppercorn sauce and café de Paris butter) was a superbly cooked highlight, done just right. As for seafood, the
ling cod
(with chowder, mussels, clams, and brandade croquette) was a delightful smörgåsbord of flavours. The
beef cheek bourguignon
was well prepared, but not as intriguing or mighty in taste as the other plats principaux. It was a little plain for my tastes.
For dessert, I heartily recommend the butterscotch pot-de-crème (with shortbread crumble) and the simple financier cake. BWR offered a plethora of great French cuisine in a charming environment despite just opening. It's a very small, intimate space with minimal seating but a enticing bar setup. I suggest you get there before 6pm or after 8pm to snag a table.
More |
YVArcade
/
Scout