Taste of Yaletown Premiere
preview at
MINI Yaletown
in
Yaletown
on October 17, 2012.
Chowing down on Yaletown's finest offerings and cuisine.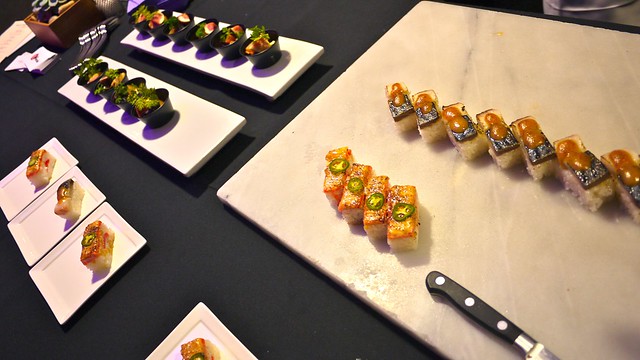 Munching on
slow roasted beets and watercress salad
(with yuzu crème fraîche, fig, and candied sesame cashew) and
aburi saba oshi sushi
(with pressed mackerel and miso sauce) from
Minami Restaurant
.
Never getting enough of Minami's signature
aburi salmon oshi roll
topped with salmon and jalapéno peppers seared with a fiery blowtorch.
Mouths watering over a fine cut of
Canadian prime rib eye medallion
with cafe de Paris butter and vegetables from
Glowbal Grill
.
Plating some tasty
crispy brome lake duck confit
with local butternut squash and sweet potato purée from
George Ultra Lounge
.
Taste of Yaletown going on now until October 27th with set menus priced at $25/35/45.
More |
YVArcade
/
Good Eat
/
Kevin Wu
/
Pangcouver