[SMA/SMN] Social Media: The New PR
at
The Network Hub
in
Gastown
on October 30, 2012.
I spoke last night on behalf of the
SFU Student Marketing Association
and
The Social Media Network
on the topic of social media branding, along with
Nicole Freeston
from
Magnolia Communications
and
Chris Mathieson
(above). Here are my thoughts on PR and branding moving online and what I talked about. Enjoy.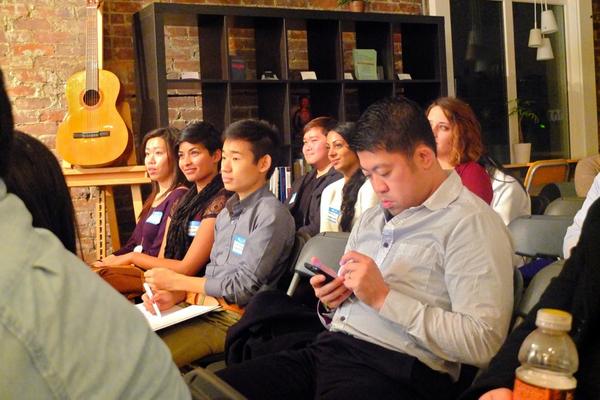 1) Personal branding and what it should be.
If you are online and are some sort of professional with a working reputation online then you do, in fact, have a
personal brand
.
It should be consistent and reliable. You should define it through a portfolio or working examples. It always helps to be cool and maintain an air of professionalism. In other words, having a working online profile is a good way to make yourself look legit. However, don't lie or exaggerate who you are or what you've done. Don't be a
social media douchebag
.
2) How social media actually works.
It should be
social
, duh. Social media and the advent of immediate online communication allows individuals to handle their own publicity and public relations. If you have a meagre profile, it should be relatively simple. As you grow and maintain relations online, it requires more and more effort.
Social networks allow followers, fans, clients, colleagues, and strangers to interact with you on a personal level no matter who you are or who you represent.
3) Always engage.
Social media is a two-way conversation. Just like with traditional PR, a successful campaign or messaging requires a healthy back and forth. You must provide value, feedback, and general usefulness to grow a positive reputation.
4) Remembering personal vs. professional.
I've discussed about this endlessly. I highly encourage young professionals to share as much of their lives (providing it's interesting) with the world online. However, don't be stupid. There are clear boundaries and assume everyone you know (or will ever know) will see what you share. Nobody's perfect and followers get that, but being unprofessional is still being unprofessional.
Sharing can give you some much needed personality and shape you fully as a real life human being and not just a bot or entity who lives in the computer.
5) Don't wait for opportunities. Create them.
Do something new, interesting, or innovative. Either that, or do something others are doing, but do it better.
Remember to show and
don't sell
. Don't be afraid to
make mistakes
, but make new ones, and learn from them. Personal branding is about defining yourself (before others do).
Photo |
Janice Leung
/
Mark Woo